Putting local people in touch with local businesses...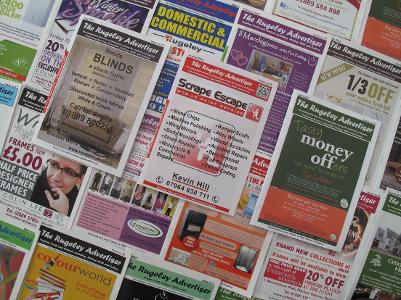 The Rugeley Advertiser
is the best way to get your business noticed by local people
Affordable & effective local advertising
Reach thousands of homes in the local area.
Increase business by promoting your services.
Just starting out? Tell people about your business.
A great way to offer discounts or special offers.
Welcome to The Rugeley Advertiser!
Read by thousands of loyal readers, The Rugeley Advertiser is an independent community magazine published each month and delivered FREE to 7,000 homes in Rugeley, Colton and Slitting Mill.
Printed in full colour and in a handy A5 format that easily pops through the letterbox, the magazine was first published in June 2007. Six years later it has become a popular and well respected monthly read for thousands of local households, and is used by dozens of local businesses.
The magazines are designed to be entertaining as well as informative containing editorials, puzzles, community pages, useful numbers and articles as well as being a one stop shop for local businesses to advertise their products and services.
In the centre pages each month is the ever popular Restaurant Review bringing you the best local dining experience, without any of the calories!
Where Do Our Magazines Go To?
As well as The Rugeley Advertiser we produce magazines in the local villages and the city of Lichfield for those of you who want to spread your net a little wider...
The Village Advertiser - covers Armitage with Handsacre, the Longdons, the Ridwares, Kings Bromley, Yoxall, Fradley & Alrewas
The Darwin Advertiser - covers the western half of Lichfield (Darwin Park, Leomansley, Friary, City, Chadsmead, Curborough) and the village of Shenstone
The Lichfield Advertiser - covers the eastern half of Lichfield (Boley Park, Streethay, Borrowcop, Stowe) and the village of Whittington
Each of our magazines is hand delivered to 7,000 homes in the local area. We can tailor packages to suit the individual needs of your business
Spread the word about your business to 28,000 local homes and businesses
Testimonials
"A great magazine and always reliable. We get loads of calls from it."
Helen from Castledine Landscaping
"The response was immediate when we first went in, and we've stayed in ever since. It's a quality publication and we are very pleased with the results. "
Heather from Studio 5 Stage School
"Great to have the flexibility of an in house designer at no extra cost. It's a professionally run magazine with someone always on the end of the phone. I love working with you guys - and we get a good return on our investment."
Jason from The Colliers Restaurant
Contact us today on 01543 300 413 for further information